The firearms range was constructed over a period of 5 years.
Many people contributed their time and effort for its construction. This facility is for ALL to use FREE of charge.

THANK YOU to everyone who helped with the Range project. My apologies to anyone that may have been overlooked. Your efforts were and are still greatly appreciated.
Dan Grassi and the entire golf course crew.
Steve Wandahsega
Cory Lafave
Anthony Williams
"Peto" Halfaday
Al Carpenter
Jeff Hapner
Mark Larson
Mark Lanaville
Shawn 'Cheebs" Shawano R.I.P.

Hannahville Housing crew and Al Besola

HPD personnel

Special Thanks to Hannahville Construction,
Darrel Wandahsega, Richard Meshigaud, Willie Sjoholm and John Meshigaud.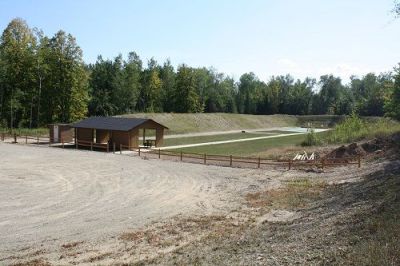 For Information on using the Firearms Range, contact the
Hannahville Tribal Police Department at (906) 466-2911.
Click on the Photos for Larger View
Lt. Poupore

Barricade Qualifying

Chief Halfaday

Shooting from the hip

Barricade Shooting

Officer LaPalm

Barricades with Pistol

Officer LaPalm

D/Sgt. Hansen

Turning Targets

Pavilion

Pavilion

Firearms Range

Pavilion

Pavilion

Pavilion and Benches